Oh boy, why do I do these things to myself?? I blame Lorryn @ Reading Parental for making it sound like so much fun.
I have decided, at the absolute last minute, to join the Disney-A-Thon readathon for the month of August. I'm going with Team Tangled since I already own a copy of the group book and this will be a good excuse to finally read it.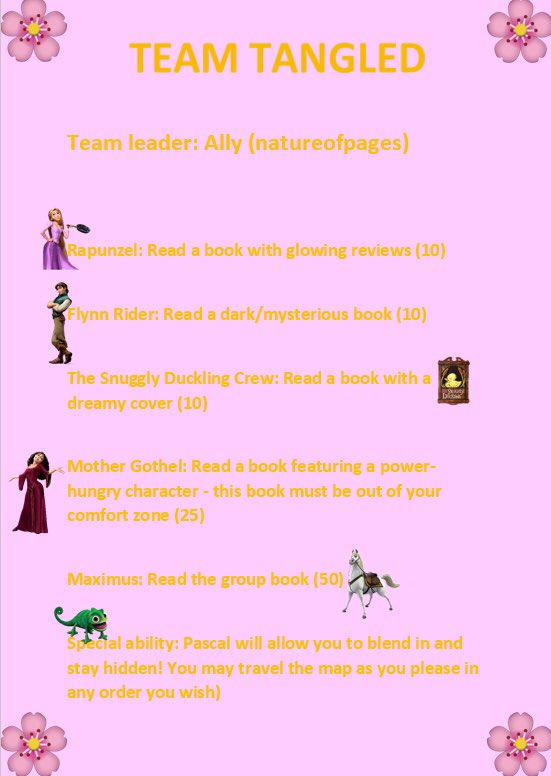 Here are my book choices:
Rapunzel: An Ember in the Ashes by Sabaa Tahir – I've had a copy of this on my bookshelf almost since the day it came out and have heard nothing but good things about it.
Flynn Rider: Pharaoh's Star by Olivia Ray Hardy – I have this ARC and the description says its about a strange and mysterious thing happening on a dark, lonely road. Works for me!
The Snuggly Duckling Crew: Stain by A.G. Howard – All of her book covers are gorgeous, but this one is really beautiful.
Mother Gothel: Brave New World by Aldous Huxley – It's hard to get out of my comfort zone, since I read just about anything, but I don't read a lot of hard sci-fi. I'm also pretty sure there are many power-hungry characters in it.
Maximus: A Curse So Dark and Lonely by Brigid Kemmerer – I have had this one since it came out as well and can't wait to finally read it!
Will I do any of the other team challenges? No idea. I don't know if I can do this one, to be honest! But I'm going to give it my best shot. It should be fun in any case!
Anyone else joining in? You can find all the details on the Disney-A-Thon Twitter. Let me know so we can cheer each other along!
---
---
Categories: Drabbles